Just a quick post today:
Ewen Chia, arguably the world's number 1 affiliate marketer, is launching his first print book in less than 10 hours from now! You can get a free copy of the chapter 1 of his print book "How I Made My First Million On The Internet And How You Can Too!" now at http://www.internetmillionaires.com.
I will be getting it once it launches on Amazon later today. I have a prediction to make: This book will become a best seller on Amazon.com within 24 hours of its launch. Don't believe? Let's wait and see! This is the power of the Internet. I have seen how Mark Joyner, the godfather of Internet Marketing, did it years ago. Many other online marketers repeated the same feat too.
I highly recommend that you get a copy quick when it launches because you will get a bonus package worth a total value of $1,894.00 for FREE when you buy the book.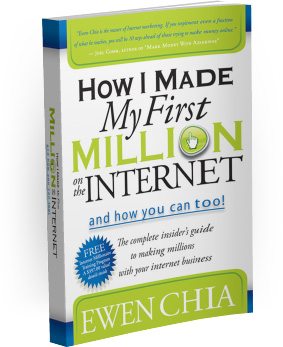 I respect Ewen for what he has been doing and I do not get anything out of this promotion. I am a living testimonial that his stuff works! If you want to make more money online doing affiliate marketing, he is one guy that should be on your radar!
Oh, and before I forget, Singaporeans will get a free one day workshop when you buy his book on launch date. This alone is worth hundreds, if not thousands of dollars!
Update: This book has already hit #1 on Amazon.com across all categories,  including the main bestseller list, even before first 24 hours of launch are over (despite the fact that their servers had been attacked)!  If you are having problems ordering the book or claiming your bonuses, please try again later. 
P.S.: So, my above prediction is right! Internet marketers can 'move and shake' the internet when they operate in an collaborative effort!